Kelly, you look kind of tired!
This is my "before" picture, Elaine. I'd say "tired" is an understatement!
Which brings us to my exciting news!
What exciting news?
I'm branching out, Kelly!  People have been asking me to mentor them!
Wow!   Really?  You're going to need a good advertising agency to handle your promotion!  Have you tried McMahon and Tate?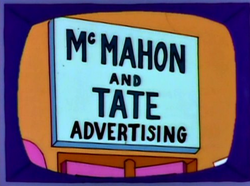 Kelly, I think I can come up with my own advertising slogan!  How hard can it be?  How does this sound: "Be in the know, give Elaine your dough!"
I'm calling McMahon and Tate.  And what about my case?  Aren't we supposed to be talking about me?  
What about this:  If you wanna feel bettuh, send Elaine a lettuh!
Who let Barbra Streisand in?
Uh-oh!  I've seen that look before!  You're going to sing the whole sound track from "Funny Girl", aren't you?
Hey, I've got 36 expressions: 'sweet as pie' to 'tough as leathuh'!  And that's 6 expressions more than all them Barrymores put togethuh!
Somebody kill Miss Streisand's mic!
Instead of just kicking me why don't they give me a lift?  It must be a shock, cuz they're scared that I've got, such a gift!  Well I'm miffed!  Cuz I'm, the greatest star….
Security!  Please pull the plug on the Ziegfield Follies?  Thank you!  I'm starting my case now!
Ahem!
As some of you may know, I am the mother of 3 active, albeit accident-prone, and yet somehow, athletic but otherwise "normal" children (I know, hard to believe!) and I am also the daughter of two elderly parents whose health is starting to fail.
Consequently, from time to time I suffer from insomnia, worrying about my family.
Recently, I did just that but it lasted for over 3 nights!  By the last morning I had a headache in my forehead and diarrhea as well.  I was very fatigued.  I felt weak and "out of it" and had no motivation to do anything!  My body felt so weak as if drained of muscle.
I was very chilly and had to wear layers of clothing to keep from shivering.
I had absolutely no appetite but wanted warm tea and cider.
I happened to mention this to Elaine who suggested _______30C.
I took one dose and was amazed to find my headache gone within minutes!  The diarrhea had also stopped.  The headache returned later on while at a doctor's appointment for my son (hey Elaine, maybe next month's quiz??) but subsided by the time we returned home.
I have also been sleeping better in general — more soundly and without thoughts keeping me awake; Hooray!!!
So, that's it!  I call this episode a "one-dose wonder"! (which I'm sure Elaine will "creatively" edit out!!)
Hey!  Why would I do that?  And now for our next big surprise!
Who is it now, Milton Berle?
No, Kelly, it's Sumita Chaudry from India!
Does she do impressions?
No, she's one of our regular quiz participants.
So she's a real person?
Yes! She sent us her case!  It's a bonus case! Here she is now:
I'd like to begin by saying that this is not my picture. Who is it?
It's Milton Berle.
And, who is Milton Berle?
Mr. Television.
I see…. And who is Larry Tate?
He's a partner in McMahon and Tate.
You know, I find this whole section of the ezine a complete mystery; not that I'm not deeply honored to be here on "The Hpathy Quiz"!  Well, for the past so-many years (10 maybe?) I've felt sick during and after a trip — nauseous, weak, drowsy with my head feeling like lead — especially taking a flight or by any air-conditioned mode of conveyance.  Now that I'm introduced to homeopathy and I had to go for a longish trip to Singapore from India, I looked up my symptoms and identified ______ as my remedy.  I was not sure about how or when to take it, which Elaine guided me through a month back.  (I don't do well in a car either, though I'm better if I'm the driver.  Circular motions I can't take, nor exhaust fumes.)
I took the remedy in water once, an hour or so before, and as a matter of abundant precaution once during the flight.  On the return trip I just took one dose while boarding the flight.  I enjoyed the food and the Singaporean Sling (an alcoholic drink) unimaginable earlier when even the smell of food was sickening.  And I've lived happily ever after!
My problem was at its peak when my mother was ailing with cancer (1996-97) and I had to travel frequently for work while my husband took care of her.  At that time it would take days for me to actually recover from the aftermath of a journey.
Well, people, what do you think?
Don't be a dork, put Elaine to work! 
Kelly, that doesn't even rhyme!
Send her your vote at [email protected].  The answer will be in next month's ezine.
Actually, it's here now: